I stumbled on a great website, I don't quite remember how or when, but Jillee makes all kinds of home made stuff, from body soap to household cleaners. She has some great cleaning tips, budgeting, crafting, free printables and more. Recently, she opened up a forum for her blog followers to chit chat.
I made her powdered laundry soap (the trial size) and I've been very pleased with it. When I saw the post about enzyme cleaner, I was intrigued, especially with the use of the leftovers as a scrub. I broke out my kombucha jar and whipped up a batch. I used lemons, limes oranges and a grapefruit instead of all lemons. Never have I been able to read a recipe and just follow it, sorry.
*Pause for a commercial break: if it wasn't for Pintrest, I would have no links in this post. Thank you.*
I am not patient. I constantly whine to Jesus about "not enjoying the waiting room." In any case, I did the fast fermenting version of the cleaner. What's a little yeast among dirt? Retro Man thought I was brewing up my 'booch on the counter. (one of those "you didn't listen to me when I told you" conversations). He watched me strain out the liquid and wondered about cost vs. buying the Method cleaner I recently became attached to. I have not  made up a cost analysis, which should surprise no one that knows me and my mathphobia. I'll leave that to experts. I had fun. And, I was excited to clean The Big Blue House with it.
Monday I sent the boys off to school (across the parking lot…I'll explain that in a future post) and did a number of things before I finally got around to cleaning. I dutifully broke out my leftover rinds, scooped a few spoonfuls into the bullet blender and whizzed away. Added some baking soda, whizzed again. I admit, I was not all that thrilled with the scrub. It could be the fact that I have a small bullet style blender and not a big, strong food processor to grind it all up in. However, it did clean the sinks and tub nicely. VERY smooth feel, no residue.
The cleaner itself did a bang up job on cabinet faces, counter tops, toilet (just poured the concentrate right in there) and the hardwood floor in the kitchen. I am notorious for not measuring anything, so I can't tell you the exact ratio I used. One decent splash in a bowl of hot water. It smells great and cleans well. I'll make it again. Because I used a variety of citrus, it's not a pretty pale yellow shade like Jillee's, but it works well. I don't have a shot of my finished product, but here's the jar fermenting.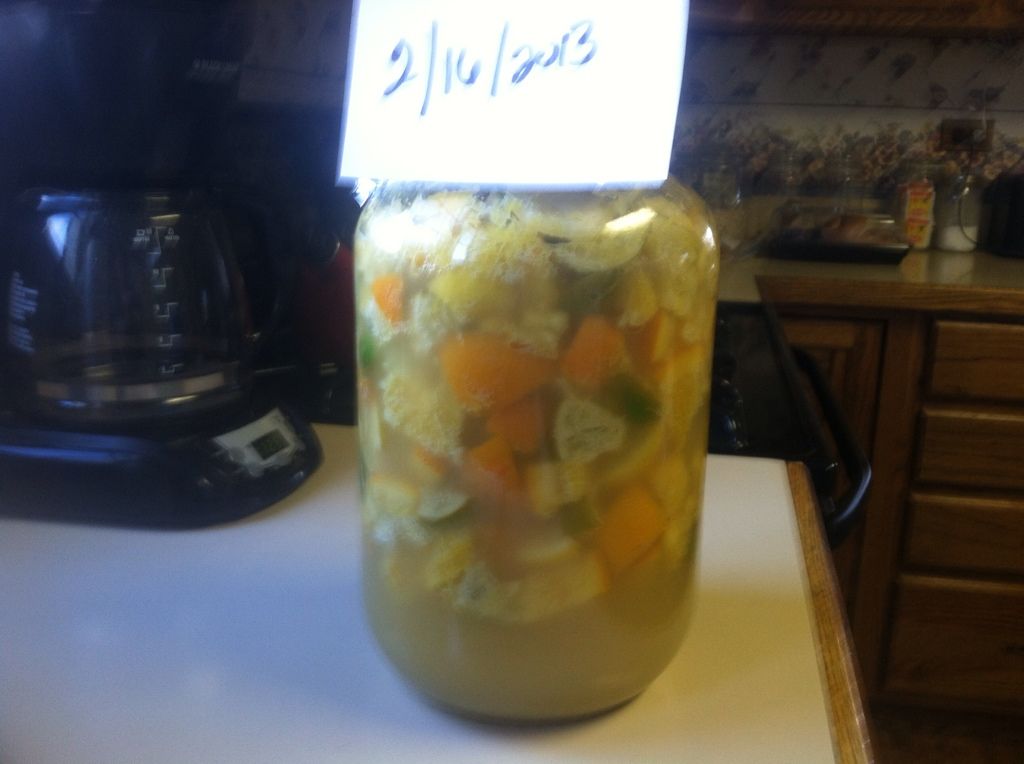 Retro Man thought it did a fine job, too.
Try it, as well as some other of Jillee's home made solutions.
Till next time, Be Blessed!
Barb